(LONDON, KY.) – On Saturday, December 10, 2011, at 7:00 AM the Kentucky State Police, Post 11 London and the Kentucky State Police Division of Commercial Vehicle Enforcement, Region 4 London, joined the London Police Department and the Laurel County Sheriff's Office in the annual "Shop with a Cop" program in Laurel County.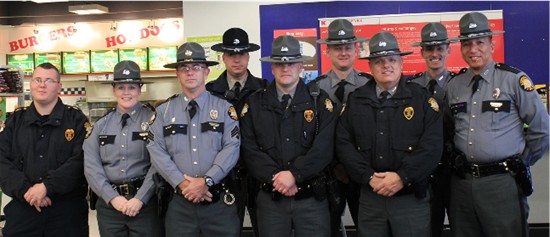 From left to right as you view the photo:  Front row- KSP-CVE Inspector Chris McQueen, Trooper Staci Walker, Sergeant Craig Sutton (Camp Director of Trooper Island Camp), Trooper Lloyd Cochran, TFC Don Trosper, Trooper Jack Riley.
Back Row – KSP CVE Officer Jerry Jones, Trooper Jeff Senters, Trooper Ryan Loudermilk.  Not pictured but also participating was KSP Sergeant Lafe Owens.