CORBIN, KY — By combining her volunteer spirit and artistic talent, Barbara Begley has created unique decorations to adorn Christmas trees and support PRIDE.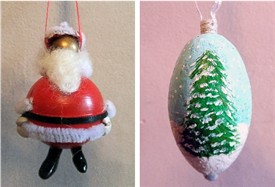 Begley fashions one-of-a-kind ornaments from the lures and bobbers she collects while volunteering to pick up litter at Laurel River Lake.
Begley made these Christmas tree ornaments from bobbers she found while picking up litter at Laurel River Lake. She recently began selling her decorations, and she plans to donate 10 percent of her sales to PRIDE, the nonprofit organization that promotes environmental cleanup and education in southern and eastern Kentucky. . Photos by Barbie Begley.