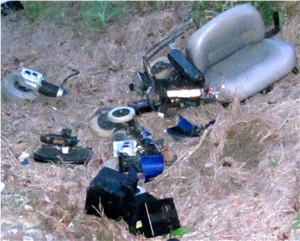 Laurel County Sheriff Press Release - According to Sheriff John Root, Laurel Sheriff's Sgt. Greg Poynter investigated a motorized wheel chair versus a CSX train collision that occurred on Tuesday night (5-31-2011) at 8:40 P.M., 7 miles south of London.
Apparently an intoxicated man driving a motorized wheel chair attempted to cross the CSX railroad at the Tackett Road crossing off Ky 552 near Lily as a south bound train was approaching. A collision occurred and the man in the wheelchair raised up just as he and the wheelchair collided with the train, knocking the wheelchair and man off the crossing.
The victim is identified as Donald Ray Karr age 58 of Rose Lane, Lily who received multiple injuries and broken bones. He was treated at the scene by Ambulance Inc. Of Laurel County , London Laurel County Rescue Squad, and the Lily Volunteer Fire Department. He was then flown by helicopter to UK med Center in Lexington with serious injuries.
Laurel Sheriff's Chief Deputy Eddy Sizemore, and Deputy Greg Turner assisted on the investigation.