It was the TaLaura Mathis show in the Arena at Corbin Tuesday night. The seventh grader led all scoring with 18 points on six 3-pointers as the Lady Tigers (24 – 6) cruised to a 57 – 26 win over the Pineville Lady Mountain Lions (13 – 18) in the opening round of the 13th Region Tournament.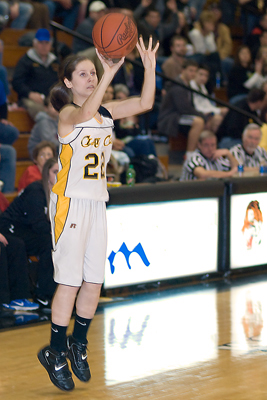 The Lady Tigers shot just 38% from the floor in the first half, but managed to take a 23 – 15 lead at the break thanks in large part to the 3-pointers by Mathis and a swarming defense.
Both teams came out cold in the second half. The Lady Tigers finally got things heated up midway through the quarter when they rattled off seven quick points on a field goal by Natosha Gilbert, an old-fashioned three by Whitney Belle Jackson, followed by Mathis' fourth 3-pointer of the night.
The Lady Tigers continued to heat things up in the fourth quarter, scoring 22 of their 57 points in the final quarter.
Clay County's shooting percentage warmed up in the second half as well, with the Lady Tigers shooting 66% from the floor in the final two quarters.
Next up for the Lady Tigers will be the Corbin Lady Redhounds. Corbin edged out Harlen 40 - 37 in the second game of Tuesday night's action.
The Lady Tigers won a close contest 45 - 42 in their regular season meeting at Corgin earlier this season.
Lady Tigers—T. Mathis 18, K. Smith 16, W. Jackson 10, A. Mithcell 7, N Gilbert 4, M Chestnut 2
Lady Mountain Lions—R. Brooks 8, C. Smith 7, V. Knuckles 4, W. Partin 3, L. Brooks 2, K. Brock 2
Lady Tigers 13 10 12 22_57
Lady Mtn Lions 6 9 2 9_26