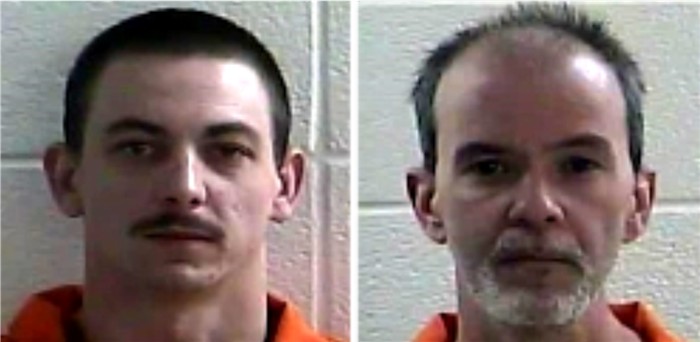 Laurel County, KY - Laurel County Sheriff John Root is reporting that: Laurel Sheriff's Deputy Josh Scott along with Deputy Brad Mink, Detective Kyle Gray, and Bailiff Robert Reed arrested two individuals off Riverside Loop, approximately 9 miles south of London on Monday afternoon January 8, 2018 at approximately 1:21 PM.
The arrests occurred after deputies were dispatched to a domestic dispute there. Deputies noted that they responded to this residence a third time in less than an hour regarding a disturbance call, a custody dispute, and a disturbance call on the third call.
When deputies arrived at the scene on the third complaint, they learned through investigation that apparently one of the individuals had tried setting a fire to wedding pictures inside the residence while holding his one-year-old daughter.
In addition, one of the subjects inside the residence was found to be in possession of a firearm and was determined to be a convicted felon.
The two individuals arrested were identified as:
Brandon D. Rice age 23 blankety-blank charged with wanton endangerment – second-degree and disorderly conduct – second-degree.
Michael Dewayne Hicks age 44 of London charged with possession of a firearm by a convicted felon
These two individuals were lodged in the Laurel County Detention Center.
Photos attached are courtesy of the Laurel County Detention Center.