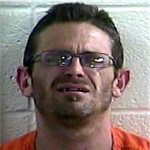 Laurel County, KY - Laurel County Sheriff John Root is reporting that: Laurel Sheriff's Deputy Travis Napier along with Lieut. Greg Poynter arrested Jamie Chandler age 43 of London on Wednesday afternoon December 27, 2017 at approximately 2:31 PM.
The arrest occurred off Barbourville Road approximately 1 mile south of London after deputies were dispatched to a dispute at a business there.
Upon arrival at the scene deputies conducted an investigation and learned that this subject had allegedly threatened another subject and then ran to several residences harassing neighbors and creating a disturbance there.
This individual was arrested and charged with disorderly conduct – second-degree and menacing and was lodged in the Laurel County Detention Center.
Photo attached is courtesy of the Laurel County Detention Center.