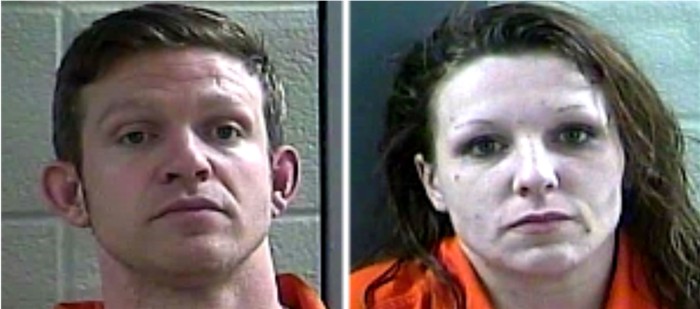 Laurel County, KY - Laurel County Sheriff John Root is reporting that: Laurel Sheriff's Deputy Travis Napier along with Deputy Jake Miller, Deputy Jamie Etherton, and CSO Sean Hayre arrested two individuals on Monday evening December 25, 2017 at approximately 6:20 PM.
The arrests occurred off West Cumberland Gap Parkway, near a business approximately 10 miles south of London after deputies developed information on the possible location of a reported stolen vehicle that Deputy Josh Scott had investigated (stolen off Rose Street, Corbin) that had been spotted near a business there.
When deputies arrived at that location they observed the reported stolen vehicle, a Toyota Tacoma, pulling out from the business and conducted a traffic stop.
Arrested was:
The driver identified as: Andrew Thomas Rose age 32 of Corbin was arrested and charged with receiving stolen property under $10,000.
The passenger in the vehicle gave deputies a false name and during the investigation attempted to flee from deputies fleeing on foot running down the middle of the road placing deputies in potential danger chasing her.

Jessica A. Rainwater age 28 of Corbin charged with receiving stolen property under $10,000. In addition, the subject was also charged with giving officer false identifying information; fleeing or evading police – second degree – on foot; resisting arrest; and wanton endangerment – first-degree – police officer is victim.

In addition, deputies also learned that the subject was wanted on a Kentucky parole Board parole violation warrant charging absconding parole supervision; failure to report to parole officer has directed; and failure to make restitution has directed regarding a conviction in Whitley County Circuit Court on a charge of unlawful possession of meth precursor – first offense.

In addition, this subject was also charged on a Knox District Court bench warrant of arrest charging failure to appear in court on charges of operating a motor vehicle under the influence; failure to or improper signal; and contempt of court.
These two individuals were lodged in the Laurel County Detention Center.
Photos attached are courtesy of the Laurel County Detention Center.