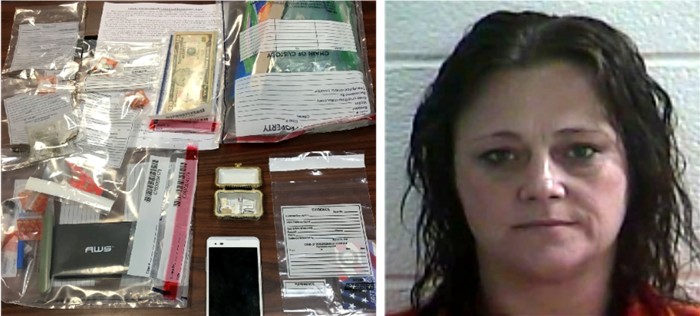 Laurel Counjty, KY - Laurel County Sheriff John Root is reporting that: Laurel Sheriff's Deputy Gary Mehler along with Deputy Daniel Grigsby and his K-9 "Edge" arrested Lisa Gail Johnson age 41 of Downs Chapel Road, Woodbine early Sunday morning December 24, 2017 at approximately at 4:18 AM.
The arrest occurred off Cumberland Gap Parkway approximately 9 miles south of London after deputies conducted a routine traffic stop on a blue colored Ford Ranger.
During the stop, deputies became suspicious of possible drug activity and the Sheriff's office K-9 did a walk around the vehicle and alerted to the presence of drugs.
Deputies found this subject in possession of Methamphetamine, Carixoprodol, Clonazepam, Dextroamphetamine, Alprazolam, Marijuana, a glass pipe, digital scales with residue, a spoon with residue, rolling papers, small empty plastic baggies, US currency, and an EBT card belonging to someone else.
Lisa Gail Johnson was charged with trafficking in a controlled substance first-degree first offense – methamphetamine; four counts of possession of a controlled substance; two counts of illegal possession of legend drug, possession of drug paraphernalia, possession of marijuana, rear license plate not illuminated, rim or frame obscuring lettering or decal on plate, operating a motor vehicle with expired drivers license, knowingly fraudulently using id card or electronic codes for benefits.
This individual was lodged in the Laurel County Detention Center.
Photo of accused attached is courtesy of the Laurel County Detention Center.
Also photo of contraband seized is attached.
Sheriff John Root stated the "War on Drugs" continues!