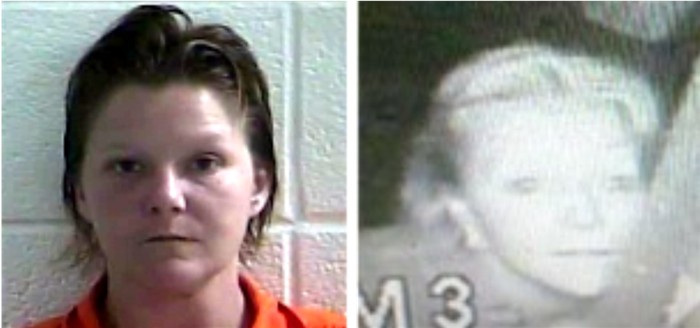 Laurel County, KY - Sheriff John Root is reporting that: Laurel Sheriff's Detective Kyle Gray along with Detective Sgt. Kevin Berry, Sgt. Brett Reeves, and Deputy Daniel Grigsby arrested Elizabeth Sheridan Chamberlain age 37 of Corbin early Tuesday morning October 3, 2017 at approximately 12:40 PM.
The arrest occurred off Ridings Mitchell Creek Road one mile west of London after information was developed regarding the burglary of Corner Market on Highway 830 in southern Laurel County on September 29, 2017. This subject admitted breaking into the store, destroying security cameras, smoking packs of cigarettes taken from the store and spending money at a local department store.
Stolen cigarettes, a camo bag, and several perfumes were found in this subject's possession that had apparently been stolen from the store.
Deputies also located this subject in possession of a glass pipe.
Elizabeth Sheridan Chamberlain was charged with burglary – third-degree; criminal mischief – first-degree; theft by unlawful taking $500 or more under $10,000; and possession of drug paraphernalia. In addition, this subject was charged on a Laurel District Court bench warrant of arrest charging failure to appear in court on charges on theft by unlawful taking – shoplifting.
This individual was lodged in the Laurel County Detention Center.
The Sheriff's office would also like to thank the public for their help in identifying a possible suspect after this story was posted on the Laurel County Sheriff's office Facebook page.