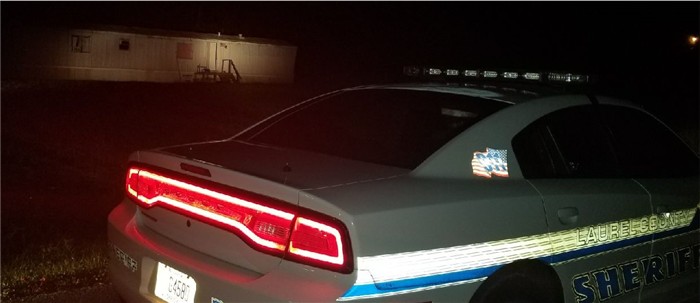 Laurel County, KY - Sheriff John Root is reporting that: Laurel Sheriff's deputies and detectives arrested Jason Patton age 37 of London on Friday night September 22, 2017 at approximately 11:05 PM.
The arrest occurred off Patton Road approximately 7 miles north of London after Deputy Brad Mink and Deputy Keith Dinsmore were dispatched to a complaint at approximately 9:15 PM of a male subject allegedly walking along Patton Road armed with a stick, and hitting mailboxes and screaming and cursing and creating a disturbance.
When deputies arrived at scene they encountered the subject still armed with the stick and as deputies approached, the subject retreated to a mobile home threatening the deputies as he fled into the residence where he barricaded himself.
The Laurel County Sheriff's office Special Response Unit (SRU) responded to the scene along with Sheriff John Root and other detectives and deputies.
Following approximately a two hour standoff the suspect exited his residence and after a brief struggle with the sheriff's office SRU, was taken into custody.
Detective Jason Back charged Jason Patton with criminal mischief – third-degree; fleeing or evading police – first-degree – on foot; resisting arrest; disorderly conduct – second degree; and public intoxication – controlled substances.
This individual was lodged in the Laurel County Detention Facility.
Assisting at the scene for Laurel Sheriff's Office was: Sheriff John Root, Detective Chris Edwards and the Laurel County Sheriff's Office Special Response Unit led by Maj. Rodney VanZant with team members Detective Jason Back, Sgt. John Inman, Detective Sgt. Kevin Berry, Deputy Josh Scott, Deputy Travis Napier and Deputy Shannon Jones.
Ambulance Inc. of Laurel County also responded to the scene.
Photo of scene provided by Deputy Gilbert Acciardo.