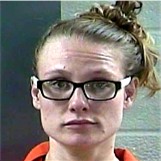 Laurel County, KY - According to jail records, Whitney Rochelle Smith age 23 of Manchester was booked into the Laurel County Detention Center Wednesday night august 30, 2017 at 8:22 P.M.
The Laurel County Sheriff's Office is listed as the arresting agency.
This individual was charged with possession of a controlled substance – first-degree – first offense – methamphetamine; and possession of drug paraphernalia.
Photo of the accused is courtesy of the Laurel County Detention Center