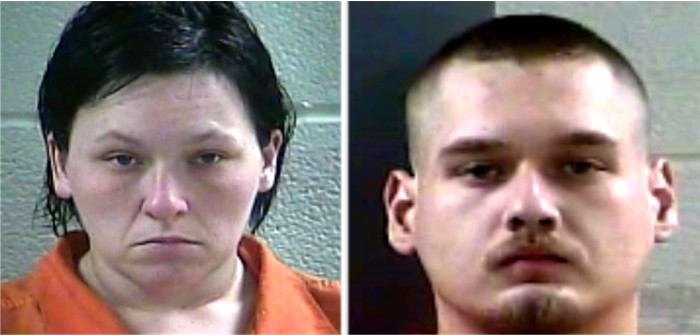 Laurel County, KY - Sheriff John Root is reporting that: Detective Kyle Gray arrested two individuals on Monday afternoon July 24, 2017 at approximately 4:15 PM.
The arrests occurred off Stamper Lane approximately 7 miles south of London after Detective Gray accompanied social services on a referral regarding a physical abuse complaint.
Upon arrival at the scene Detective Gray observed a female subject outside the residence apparently under the influence. An investigation was conducted and this subject was determined to be under the influence.
Inside the residence, Detective Gray located to bongs used for smoking marijuana, two pipes with residue, rolling papers, and other drug paraphernalia. Detective Gray located the female subject's 11 month old male juvenile inside the residence and learned that both the female subject and her live-in boyfriend had smoked marijuana inside the residence while the infant was present earlier.
The two individuals arrested were identified as:
The mother of the 11-month-old – Stephanie Lynne Smith age 29 of London and Jason Darrell Smith age 23 of London both charged with public intoxication – controlled substances; possession of drug paraphernalia; and wanton endangerment – second-degree.
These two individuals were lodged in the Laurel County Detention Center.
Social services placed the 11-month-old with other family members. Three other children who apparently lived at the residence were already with other family members.
Photos of accused is courtesy of the Laurel County Detention Center.