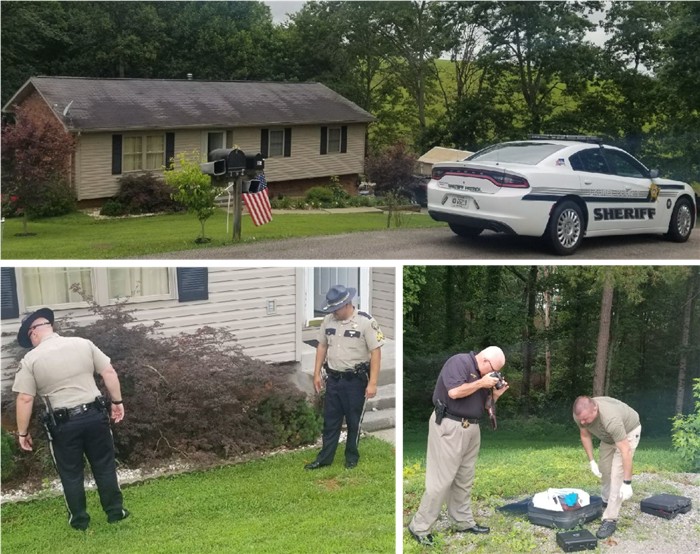 UPDATE:
Otis Kemp age 40 (pictured left) of Stone Ridge Apts. Corbin was released from UK Medical Center on Friday June 23,2017 and lodged in the Laurel County Detention Facility at 6:00 P.M. charged with burglary and numerous other charges.
BACKGROUND:
Laurel County, KY - Sheriff John Root is reporting that: Detective Chris Edwards arrested Otis Kemp age 40 a resident of nearby Stone Ridge Apartments off American Greeting Card Road, Corbin on Friday morning June 23, 2017 at approximately 9:55 AM.
The arrest occurred off Robinson Creek Road, approximately 9 miles south of London after deputies were dispatched to a complaint that a homeowner had came home (off Hopewell Estates Lane -9 miles south of London) and caught a male subject that had apparently broken in his residence and was still in the residence.
Deputies received other information that the homeowner had apparently shot the intruder with a shotgun and that the intruder had fled into the woods.
Sgt. Brett Reeves along with deputy Brandon Broughton located the suspect off Robinson Creek Road in the same vicinity within a few hundred yards-of where the burglary had occurred after noticing a dog that was in the area (not a police K-9) and that was alerting to someone moving around in the woods off the road.
The suspect had wounds to his upper torso and head and was airlifted to UK Hospital Lexington for treatment of serious but not life-threatening injuries.
As detectives and deputies continued to process the scene, they noted that the intruder had kicked in the back door of the residence and had attempted to flee the scene with numerous stolen items – items were found in the yard and in the suspect's possession.
Otis Kemp was charged with Burglary – first degree; theft by unlawful taking $500 or more but under $10,000; criminal mischief – first degree; fleeing or evading police – second degree – on foot; and terroristic threatening – third-degree.
This individual is being treated at UK Medical Center Lexington and will be lodged in the Laurel County Detention Center upon release.
Bailiff Robert Reed is assigned to his custody while being treated. Also assisting at the scene and on the investigation was Detective James Sizemore and Deputy Gilbert Acciardo.
Photo of crime scene and investigators at the scene attached.
A photo of the suspect will be released when he is lodged.