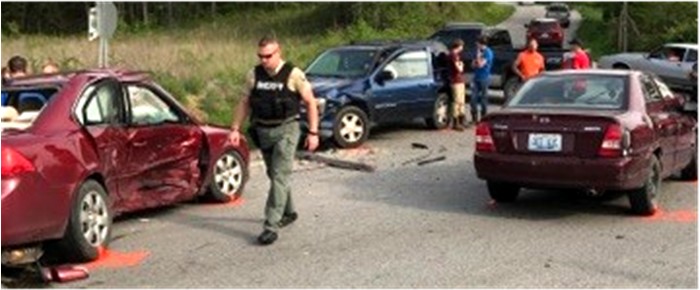 Laurel County, KY - Sheriff John Root is reporting that: Deputy Larry Parrott along with Deputy Daniel Grigsby investigated a three vehicle- serious injury traffic crash which occurred on US 25 approximately 6 miles south of London on Sunday evening April 30, 2017 at approximately 5:23 PM.
The investigating deputies report that apparently a maroon colored Kia Optima was traveling east on Lily School Road and attempted to cross US 25 misjudging an approaching northbound maroon colored Mazda Familia traveling northbound on US 25.
The Kia Optima collided with the Mazda Familia. The Kia Optima then slid around and struck a black colored Chevrolet Trailblazer that was stopped on US 25 southbound attempting to make a turn.
• The Kia Optima was driven by Anthony Dezarn age 49 of Manchester – not injured. Three passengers in the vehicle were seriously injured and are identified as Uriah Setzer age 32 of Lexington, David Miller age 34 of Salisbury, North Carolina, and Dustin Burkhart age 26 of Lily.
• The driver and only occupant of the Mazda Familia was identified as: Austin Sprinkles age 21 of Lily-- seriously injured
• the driver of the black colored Chevrolet trailblazer was identified as Bethanie Watts age 40 of Lily, with two passengers Michael Webb age 19 of Corbin and Bryce Howard age 18 of Lily.
Three of the most seriously injured were airlifted by helicopters with three helicopters assisting including PHI, Air Evac, and Air Methods, and transported to UK Med Center for treatment.
One seriously injured was transported to Corbin to Baptist Healthcare for treatment.
Also assisting at the scene of the crash was Lily Volunteer Fire Department, and London Laurel Rescue Squad.
Photo of crash site is attached.