Laurel County, KY - Sheriff John Root is reporting that: Deputy Daniel Grigsby arrested two individuals that were being sought by Sheriff's deputies regarding a robbery/ assault that occurred at Walmart near Corbin in southern Laurel County on Wednesday night April 26, 2017 where a Walmart loss prevention team member was allegedly brutally assaulted while conducting an investigation on a shoplifting theft.
Thanks to numerous tips and information from citizens in Laurel County following the sheriff's office Facebook post and news media outlets stories, leads were developed on the location of the two individuals and their identity.
At approximately 12:55 PM on Friday afternoon at April 28, 2017 – less than 18 hours after the public was notified that we were seeking the two suspects, both were taken into custody after a short struggle with the male suspect.
Location of arrests was off Mazie Road, off Wise Owl Road, 7 miles west of London.
The two suspects that were allegedly involved in the robbery assault are identified as:
• Seth Harville age 26 of Short Lane Corbin charged with robbery – first-degree and resisting arrest.
• Chelsea Kay Roark age 25 of Ester Lane, Corbin charged with Robbery-1st Degree.
Two other individuals that were arrested during the investigation are identified as:
• Kyle Holland age 28 Of Mazie Rd., Keavy charged with hindering prosecution or apprehension – second-degree. ---Allegedly, knew that Seth Harville was being sought by authorities. This subject was also charged on a Laurel District Court bench warrant of arrest for failure to appear in court on two charges of endangering the welfare of a minor.
• Misty Harville age 27 of Mazie Road, London charged on a Laurel District Court bench warrant of arrest for failure to appear in court. All four individuals were lodged in the Laurel County Detention Center.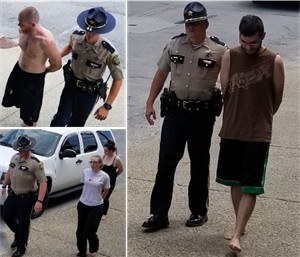 Photos attached of the four arrested individuals.
Assisting on the arrests were: Sheriff John Root, Capt. Chuck Johnson, Lieut. Greg Poynter, Sgt. Brett Reeves, Deputy Brandon Broughton, Deputy Tommy Houston, Detective Chris Edwards, and Detective James Sizemore.
Right photo top left: Seth Harville escorted to LSO by Deputy Taylor McDaniel.
Right photo bottom left: Chelsea Roark in middle escorted to LSO by Deputy Brandon Broughton with Misty Harville on the right.
Photo far right: Deputy Tommy Houston escorts Kyle Holland into LSO.