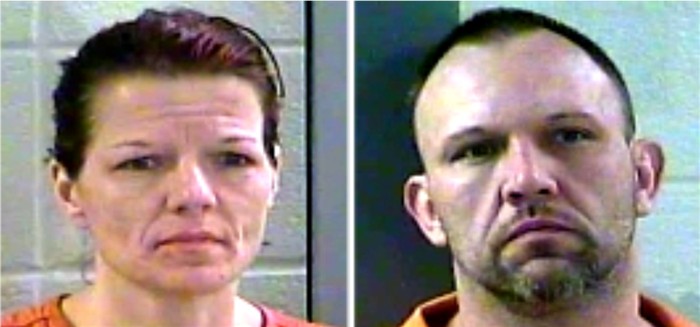 Laurel County, KY - Sheriff John Root is reporting that: Sgt. Robbie Grimes arrested two individuals at a business off Ky. 770, approximately 10 miles south of London on Friday afternoon April 7, 2017 at approximately 4:08 PM.
The arrests occurred after Sgt. Grimes was dispatched to investigate a theft there.
Upon arrival at the scene Sgt. Grimes learned that a female subject had allegedly unlawfully obtained a credit card owned by another individual to purchase a motel room and to purchase food from a restaurant in that area. In addition, Sgt. Grimes determined that a male subject located there was wanted on a parole violation warrant.
The two individuals arrested were identified as:
Donna Moore

age 39 Of Barbourville Rd., London charged with theft by unlawful taking under $500; fraudulent use of a credit card under $500 within a six-month period; and unauthorized signature on a credit card.
Eric Johnson

age 36 of Combs Ave., Corbin charged on a Kentucky parole board mandatory reentry supervision violation warrant charging absconding parole supervision and failure to report to parole officer as directed regarding a conviction in Knox County Circuit Court on a charge of unlawful distribution of a meth precursor-1st offense.
These two individuals were lodged in the Laurel County Detention Center.
Photos attached are courtesy of Laurel County Detention Center.