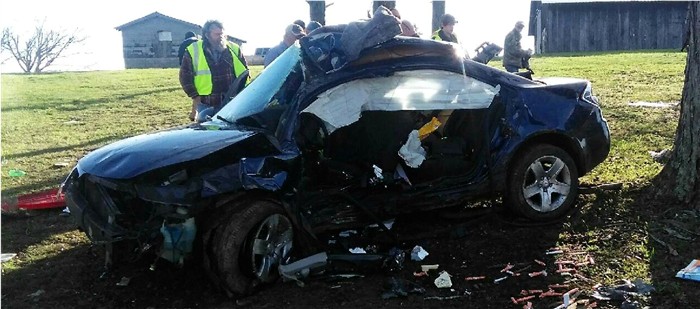 Laurel County, KY - Sheriff John Root is reporting that: Deputy Shawn Jackson along with Deputy Brandon Broughton investigated a single vehicle serious injury traffic crash which occurred on Conley Road, approximately 2 miles east of London on Friday morning April 7, 2017 at approximately 8:20 AM.
The investigating deputies report that apparently an automobile was traveling northbound on Conley Road when the vehicle crossed over into the opposing lane traveling off the roadway, then traveling back across both lanes of traffic in a skid and rotating and left the road a second time traveling across a driveway striking a garbage container, continuing out of control, striking a tree in the driver's door and came to rest near by.
The driver was identified as: Tonya Gray age 36 of Payne Trail, London - Trapped in the vehicle and had to be extricated by Bush Volunteer Fire Department and London Laurel rescue Squad.
Ambulance Inc. of Laurel County provided first aid at the scene and the driver was airlifted by PHI helicopter to UK Med Center Lexington in critical condition.
Photo of crash site attached.