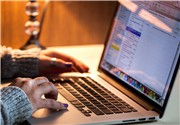 Union College has been ranked among the best colleges in the state of Kentucky for its online programs, according to the Community for Accredited Online Schools. According to the organization's Best Online Colleges for 2016-2017 report, Union College is ranked 10th in the state and is only one of two private colleges listed in the top ten.
"Many universities have embraced online learning, opening their doors to a more inclusive student body – from working professionals and stay-at-home parents to those who may not be able to commute to a physical campus," the report states. "The following two-year and four-year colleges offer some of the best combinations of online program volume, breadth and affordability available today."
Union College launched the Division of Online and Graduate Studies in 2015 with its U|Succeed program – an online initiative focused on degree completion programs. The program initially offered certificate programs, career training and several undergraduate degree options focused on students with at least 60 hours of prior college credit. Today, the Division of Online and Graduate Studies continues to offer these programs, but has added other undergraduate program offerings including a RN-BSN option for registered nurses, a Bachelor of Science in Law Enforcement and a Bachelor of Science in Substance Abuse. Online graduate programs are available in administration (MSA), business (MBA), athletic administration (MSAA), education and psychology.
"We love stressing that while Union College is not a community college, it is a college for the community," said Union College President Marcia Hawkins, Ph.D. "We are continually looking at opportunities for economic growth in our region, the needs of our prospective students and developing programs on-campus and online to provide a strong future for our community."
Union's Division of Online and Graduate Studies is managed by Dr. Melissa Houston, who took over the program as Dean in January 2017. Since arriving on campus, Dr. Houston has been exploring other initiatives to expand online offerings at Union College.
She hopes to add specialized concentrations to the institution's MBA program including Health Care Administration, Cyber Security, Public Administration and Emergency Management and work with the business sector to ensure Union's continuing education and career training programs are focused on the current job market.
"Since moving to Kentucky, I have quickly learned the economy in Kentucky is dynamic and has lots of growth potential," Dr. Houston said. "This provides many opportunities to step up with online programs to ensure our workforce throughout the region and state is prepared for jobs produced within this economy."
The ranking from the Community for Accredited Online Schools is not the first recognition Union has received for its online programs. Union's online substance abuse counseling program has twice been recognized as one of the top programs in the nation by Best Colleges. Union has also been ranked 4th in the state in teacher preparation among Kentucky Colleges and Universities. That department offers students on-campus and online offerings in undergraduate and graduate divisions.
To learn more about Union College Online, visit www.unionky.edu/online