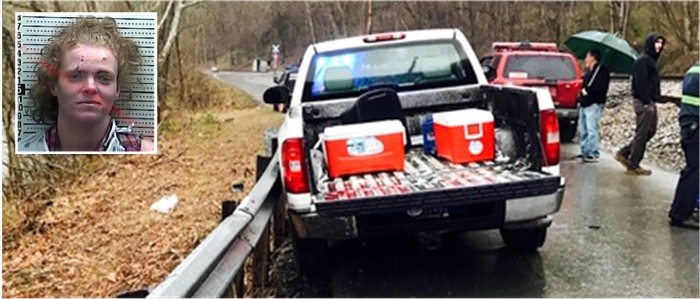 Loyall, Ky. - On March 17, 2017 at approximately 2:48 p.m. Kentucky State Police, Post 10 Harlan received a call from Harlan ARH Psychiatric Center stating that a female had walked off from their facility wearing a brown shirt and blue jeans.
While troopers were attempting to locate this individual, Post 10 received a second call at 2:53 p.m. from Cumberland Valley Engineering reporting a white Chevrolet pick-up truck stolen from behind their business by a female matching the above description.
Trooper Jared Boggs, Tpr. Kenny Abner, and Tpr. Andy Soltess located the vehicle traveling on US 421 and attempted to make a traffic stop. The female operator refused to stop and lead troopers on a low speed pursuit for approximately eight miles. The pursuit ended on Black Bottom Road in the Loyall community of Harlan County.
As troopers were attempting to negotiate with the driver, Rhonda Johnson, 30, of Loyall, struck the driver's side of Tpr. Boggs vehicle. The pick-up truck then dropped off the roadway pinning Tpr. Kenny Abner between the guardrail and truck. Tpr. Andy Soltess was also struck by the truck and received minor injuries.
Responding troopers, local agencies, along with bystanders were able to free Tpr. Abner from being trapped. Upon doing so KSP Sgt. Jay Perkins was also injured. Tpr. Abner was transported to Harlan ARH by ambulance. SGT. Jay Perkins and Tpr. Andy Soltess were also taken to Harlan ARH by car. All three troopers sustained non-life-threatening injuries. Ms. Johnson was transported back to Harlan ARH.
Ms. Johnson is charged with three counts of attempted murder (Police Officer), theft of a motor vehicle, two counts of criminal mischief 1st degree, fleeing an evading police 1st degree (motor vehicle), operator on suspended license. She was arrested and lodged in the Harlan County Detention Center. Case is still under investigation by Det. Josh Howard.
Scene photo provided by the Kentucky State Police.
Inset photo of the accused courtesy of the Harlan County Detention Center.