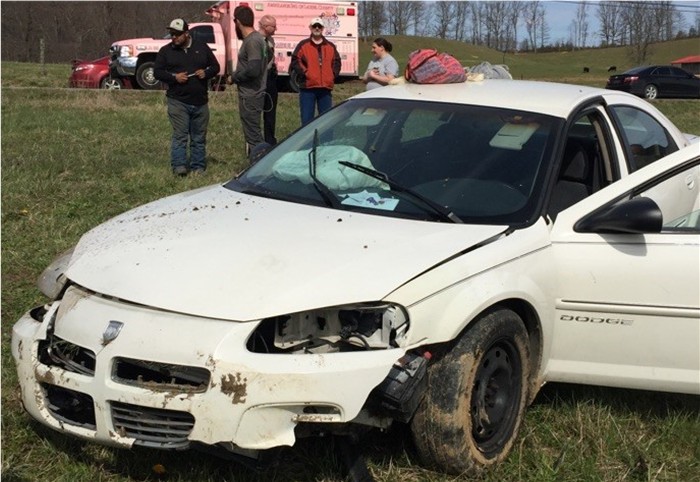 Laurel County, KY - Sheriff John Root is reporting that: Deputy Larry Parrott investigated a single vehicle serious injury traffic crash which occurred on Ky. 80 approximately 6 miles east of London on Monday afternoon March 13, 2017 at approximately 2:56 PM.
The investigating deputy reports that apparently a white colored Dodge Stratus was traveling westbound on Ky. 80 when the driver stated that he fell asleep.
Apparently, the vehicle crossed both lanes of traffic, left the roadway traveling across a lawn, struck a large garbage container, then struck an earth embankment going airborne and coming to rest off the roadway.
Deputy Parrott conducted an investigation on the driver determining that he was under the influence – this subject stated he had done methamphetamine earlier in the day.
Both the driver and the passenger were airlifted from the scene to UK Hospital in Lexington for treatment serious injuries.
The driver was identified as:
Joshua J. Morgan age 28 of Falls Street, London – this subject was charged with operating a motor vehicle under the influence – first offense; operating on suspended or revoked operators license; and wanton endangerment – second-degree. This subject was also charged with numerous other traffic violations. This subject was not lodged due to him being airlifted to UK Med Center for treatment of his injuries.
The passenger and only other occupant of the vehicle was identified as:
Mercedes Jackson age 23 of South Hwy. 25, Corbin – this subject was airlifted to UK Med Center also for treatment of serious injuries.
Assisting at the scene was Ambulance Inc. of Laurel County, PHI helicopter, Air Evac helicopter, and Bush Volunteer Fire Department.
Photo of crash site provided by Deputy Larry Parrott.