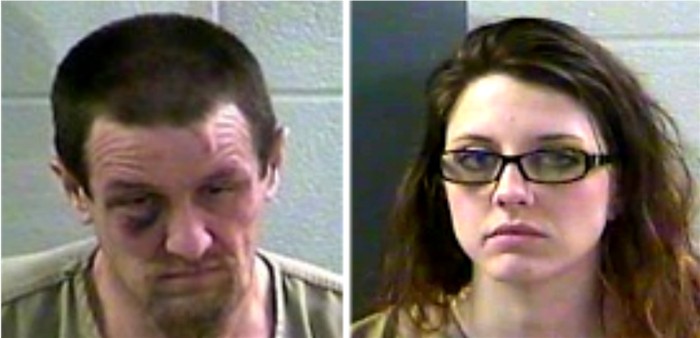 Laurel County, KY - Sheriff John Root is reporting that: Deputy Tommy Houston along with Deputy Shawn Jackson, Deputy Brandon Broughton, and Deputy Daniel Grigsby with his K-9 " Edge "arrested Roger Sizemore age 42 of Brannon Mill Rd., Lily on Friday afternoon March 3, 2017 at approximately 1:51 PM.
The arrest occurred off Prewitt cemetery road, approximately 10 miles south of London after deputies developed information on the location of a fugitive wanted by the Laurel County Sheriff's Office.
Sizemore was being sought since January 30 after he was involved in a domestic violence incident off Moberly Bend Road in western Laurel County. During that investigation, he was stopped in a vehicle by Deputy Tommy Houston. Roger Sizemore drove off from the scene even though Deputy Houston had reached into the vehicle to attempt to get Sizemore to stop, however Sizemore put the vehicle in gear dragging Deputy Houston alongside the vehicle causing injury to him.
Roger Sizemore struggled with deputies upon his arrest off Prewitt Cemetery road and kicked at deputies refusing their commands.

Upon arrest Sizemore was found in possession of suspected methamphetamine, loaded needles, and Neurontin.

Roger Sizemore was charged with resisting arrest; disorderly conduct – second degree; menacing; and possession of a controlled substance – first-degree – first offense – methamphetamine; illegal possession of a legend drug; possession of drug paraphernalia; and prescription controlled substances not in proper container – first offense.

In addition, the subject was charged on a Laurel County warrant of arrest obtained by Deputy Tommy Houston charging assault – second degree – police officer is victim and fleeing or evading police – first-degree – motor vehicle.

In addition, the subject was charged on a Laurel Circuit Court bench warrant of arrest for failure to appear in court.
Also arrested was Kayla Philpot age 25 of Parker Rd., London charged with giving officer a false name or address and hindering prosecution or apprehension – second degree. – This subject had another person's Social Security card in her possession.
These two individuals were lodged in the Laurel County detention Center. Photos attached are courtesy of the Laurel County detention Center.