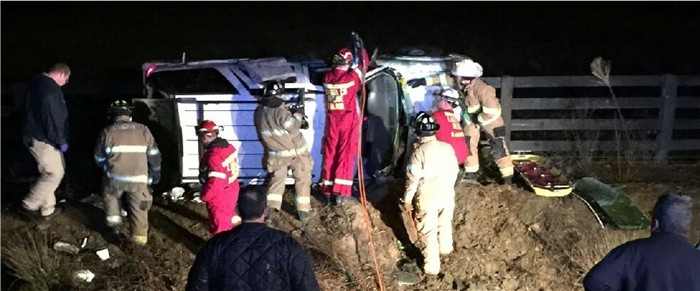 Laurel County, KY - Sheriff John Root is reporting that: Deputy Larry Parrott investigated a two vehicle multiple injury traffic crash which occurred on Ky. 30, approximately 3 miles north of London on Monday night February 6, 2017 at approximately 8:33 PM.
Deputy Parrott reports that apparently a white Chevrolet Tahoe failed to stop at a stop sign on Ky 3434 at the intersection with Ky. 30 and struck red colored Toyota Sequoia that was northbound on Highway 30. The Tahoe then continued on across the road traveling across a small creek and embankment and flipped onto its left side trapping the driver inside.
The driver of the Tahoe was determined to be under the influence and admitted drinking moonshine and taking Klonopin. The driver was identified as: Bridgett Hillard age 35 of McKee charged with operating a motor vehicle under the influence – first offense; license to be in possession; failure of non-owner operator to maintain required insurance – first offense; reckless driving; and numerous other traffic violations. This individual was cited to Laurel District Court due to her injuries from the crash and her being admitted to a local hospital.
Two passengers in the Tahoe were identified as Rebecca Nantz age 32 of Farris Jones Rd., London and Brent Schwab age 37 of Kim Gay Lane, McKee-both reporting injuries.
The driver of the Toyota Sequoia was identified as Michelle Jones age 42 of Annville with a 14-year-old female passenger also of Annville – no injuries reported in this vehicle.
Assisting at the scene was Ambulance Inc. of Laurel County, London Laurel Rescue Squad, and East Bernstadt Volunteer Fire Department.
Photo of crash site provided by Deputy Larry Parrott.