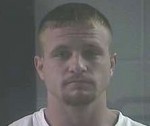 Sheriff John Root is reporting that Laurel Sheriff's Detective Sgt. Tommy Johnston and Detective Daryl Zanet have charged an East Bernstadt man with 2 counts of Robbery following an investigation.
Arrested and charged on Tuesday afternoon at 3:01 P.M. (8-7-2012) was: Joshua Dooley age 25 of Watkins Branch Road, East Bernstadt charged with 1 count of Robbery 1st degree and 1 count of robbery 2nd degree.
He was lodged in the Laurel County Detention Facility.
Detectives and deputies were investigating an attempted robbery which occurred on Friday evening (8-3-2012) at 8:35 P.M. on Ky 3434, 6 miles north of London at William Maggard's residence where a male subject pulled a knife on the home owner and demanded his wallet.
The home owner's wife was home and called 911 causing the subject to flee the scene in a silver car.
Information was developed following an investigation and a possible suspect was identified and picked out in a photo lineup.
While detectives continued their investigation they noticed the similarities in the attempted robbery on Ky 3434 on August 3rd with an earlier robbery (home invasion) which occurred on July 28, 2012 at 5:35 P.M. on Robinson Road, 1 mile north of London at Joshua Robinson's residence.
A lone assailant had knocked on the door, and shoved the home owner down stealing a wallet and watch, and fled the scene in car that appeared to be similiar (as was used on Ky 3434.)
Investigation determined the same suspect was involved.
Other officers involved in the investigations and arrest included: Laurel Sheriff's Senior Sgt. Greg Poynter and Deputy Steve Hoskins.
Also assisting was Kentucky Probation and Parole officers. Dooley was out on parole regarding a prior conviction for Manufacturing Methamphetamine.
Pictured is the accused: Joshua Dooley