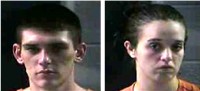 Sheriff John Root is reporting that Laurel Sheriff's Senior Sgt. Greg Poynte, and Deputy Greg Turner responded to a 911 dispatch complaint that a male and female subject had been shot at 7 miles south of London at Creekside Trading off U.S. 25 near Lily on Wednesday afternoon (8-1-2012) at 4:00 P.M.
When deputies arrived at the scene, and conducted an investigation, they learned that the male subject (who had called in the complaint) had gotten into an argument with the business owner at Creekside Trading and had attempted attack the owner.
The 72 year old owner scuffled with the male subject while trying to protect himself.
The male and female subject then tried to leave the scene, but were located by deputies nearby.
Arrested was: Steven T. McCullough age 19 of Old Mountain Ash Pike, Williamsburg and wife-Natisha K. McCullough age 19 of Crisp Court , Williamsburg, both charged with Falsely reporting an incident and Public Intoxication.
Both were lodged in the Laurel County Detention Facility.
Deputy Robbie Grimes assisted on the investigation.
Pictured left to right: Steven McCullough and Natisha McCullough