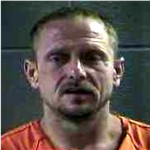 Sheriff John Root reports that on Tuesday July 17th at approx 4:30 A.M. the resident at 25 Hodge Road, Ms. Hodge called 911 to report that someone was attempting to break into her residence.
Ms. Hodge stated that the offender had opened her bedroom window and was almost half way inside when she awoke, saw the offender and fired a warning gunshot into the ceiling startling the attempting burglar and scaring him back out of the window.
When Sheriff's Sergeant Chuck Johnson arrived at the scene he quickly located Bobby Green age 35 of 3982 Johnson Road London hiding under the residence.
Green refused to come out from under the residence and had to be removed by force.
During the arrest Sheriff's Deputy Josh Scott received a substantial injury to his hand and was treated and released from St. Joseph London.
Green was charged with Burglary 2nd, Resisting Arrest and Public Intoxication.
Ms. Hodge remained unharmed during the events.
Deputies were assisted at the scene by KSP Sgt. Steve Walker and 6th District Constable Denver Mays.
Pictured is the accused: Bobby Green