Preliminary investigation indicates that a 1990 GEO Tracker operated by 22 year old John Kelly was traveling north on U.S.421 when he left the center of the roadway and then overcorrected the vehicle. The vehicle then slid sideways and left the roadway. The vehicle overturned and ejected Mr. Kelly.
Friday, 10 21, 2011
$24.2 million expansion to increase facility footprint
FRANKFORT, Ky. (Oct. 21, 2011) – Governor Steve Beshear today announced Johnson Controls Inc. will expand its Northern Kentucky automotive battery operation, creating 45 new jobs. The company's $24.2 million investment will increase the plant's square footage to accommodate additional production lines and warehousing space.
Friday, 10 21, 2011
Attorney General Jack Conway announced today the successful implementation of an electronic warrant management system (eWarrants) in the 41ST (Clay, Jackson and Leslie counties) Judicial Circuit.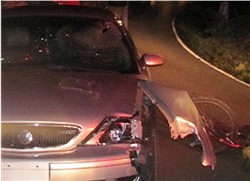 According to Sheriff John Root, Laurel Sheriff's Chief Deputy Eddy Sizemore is investigating a car versus bicycle crash that occurred on Hawk Creek Road, 7 miles west of London on Saturday night (10-22-2011) at approx. 7:27 P.M.
(LONDON, KY.) – On Saturday, October 22, 2011 at approximately 10:14 AM, the Kentucky State Police Post 11, London received a report of a shooting at a residence on KY 11 north of Oneida, KY in Clay County.